Portfolio: Jop de Klein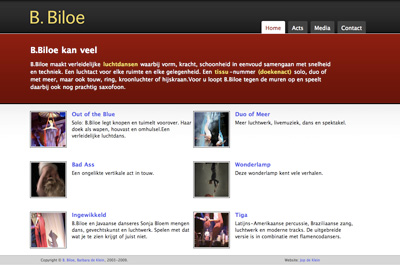 Specializing in aerial tissue, B. Biloe needed a portfolio website to showcase her acts along with photos and videos. A custom-built Django CMS allows for management of acts and associated media, taking care of thumbnail creation and media aggregation.
Activities:
Designed and created lightweight custom Django CMS
Designed corporate branding
Designed and developed front-end using XHTML, CSS and Javascript
Activities:
Designed and developed front-end
Designed and developed back-end
Designed Database
Interaction Design
Graphical Design
Developed back-end services for reading out EXIF information
I worked as interim lead front-end developer, helping Ziggo and Backbase with the implementation of the Ziggo Portal using Backbase Portal technology
Activities:
Assisted Project Management with cost estimations
Developed Portal Modules using Backbase Portal technology, JavaScript and XSLT
I joined Beehive ICT in the creation of LocalDeals.nl, working as front-end architect / lead front-end developer.
Activities:
Front-end Architecture
Front-end Development
Google Maps Integration / Customization